(RU) Expecting Growth?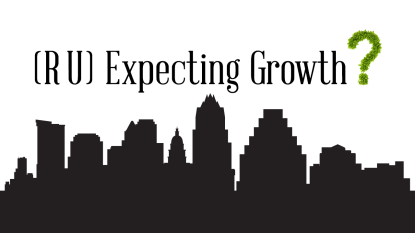 What is... (RU) Expecting Growth?
This Church emphasis is a targeted fundraising effort to pay off the loan which funded the construction cost of the Connection Center and Worship Center. It is more than just a fundraising effort, it is a challenge to "Grow" our church.
Why did Woodlawn build new facilities?
In 2009, the church entered into a long-term master plan of evaluating the church facilities. The goal was to determine how the current facilities distracted from the ministries of the church and how strategic changes could improve the outreach, worship and ministry function of Woodlawn.
Prior Problems with Facilities
The building facing Manchaca Rd. had an "institutional" look similar to a school.
The Worship Center was in the center of the campus and difficult to find.
The Worship Center was dark, narrow and deep with pews in the center and chairs on the side with columns that blocked the view.
The outdoor breezeway that went through the center of the campus was dark with metal gates at both ends.
Attempting to find the different ministries and functions within the church was similar to walking through a maze.
Facility Improvements
A new Worship Center was built and completed in March of 2012 on the Northeast corner facing Manchaca Rd. This provided a new church identity on a major road in Austin.
On the interior, the Worship Center combined a contemporary look with traditional pews and added improved technology. This created an improved worship experience.
The old Worship Center was remodeled into a new Fellowship Center for church- wide functions.
The new indoor atrium called the Connection Center was completed in March of 2018. It connected all of the buildings in a manner that made navigation easier.
How Can You Help the Church Grow?
The purpose of these facility improvements was to position Woodlawn for church growth. The decision to move forward with these facility improvements was based totally on "faith." Many gave sacrificially toward the construction project. It was, however, always known that the ability to pay for these new facilities would be based on the church's ability to grow.
(RU) Expecting Growth is a 3-year emphasis on Church health based on three specific questions.
Are you growing spiritually?
Are you helping the church grow numerically?
Are you helping the church grow financially?
Are you willing to make a commitment toward you spiritual growth and are you willing to make a commitment toward the long-term health of Woodlawn?
(RU) Expecting Growth Challenge from Pastor Russell
(RU) Expecting Growth? Brochure